Our mission
Our mission at Tillman Family Chiropractic is to enhance the lives of this & future generations through the power of chiropractic adjustments and a wellness lifestyle.
Pregnancy
Pregnancy creates unparalleled stress on the mother's body as it undergoes many changes. Dr. Tillman is Webster Certified, which utilizes gentle adjustments to help ease the process and physical demands pregnancy places on the female body ensuring a smoother pregnancy and delivery.
Infants
The birthing process is not only mentally and physically stressful for the mother, but also for the baby. Infants need to have their spines checked for misalignment to ensure proper development to hit their milestones early and often. It is easier to build strong children than to fix broken adults.
family care
Tillman Family Chiropractic is here to treat the whole family no matter what age, size, or shape! Dr. Tillman is well versed in many different chiropractic techniques to effectively treat your entire family. If you have a spine, you will benefit from chiropractic care.
Seniors
The more your spine is in proper alignment, the less chance degeneration will creep in causing pain and dysfunction over time. Chiropractic adjustments help seniors maintain their balance, decrease pain, and increase overall well-being.
Auto Accidents
Accidents can happen when you and your family least expect it. Even the most minor "bump" has the ability to cause major stress and dysfunction to your spine. It is recommended to get checked by a chiropractor to ensure proper alignment after such incident.
Tillman family chiropractic
"Look well to the spine for the cause of disease." -Hippocrates
Tillman Family Chiropractic is dedicated to helping our community achieve health and well-being by utilizing natural means. Dr. Tillman uses an innovative technique called 'specific prone'- a light, gentle, and comfortable chiropractic technique with exceptional results. Adjustments to your spine not only remove pain, but also remove any nerve interference within your spine so your body can regulate and heal itself at its optimum level. Spinal misalignments can create disarray within your nervous system, making it difficult for your brain to effectively communicate with your spinal nerves and organs. ~ Dr. Randall Tillman graduated from Cleveland Chiropractic College with a Bachelors in Human Biology and a Doctorate in Chiropractic. Dr. Tillman is a Kentucky native whose passions include the outdoors, church, college sports, spending time with family, and serving others.
Adjustments

Mental Well-being

Diet

Exercise
Our team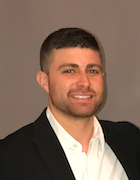 Randall Tillman, D.C.
Chiropractor